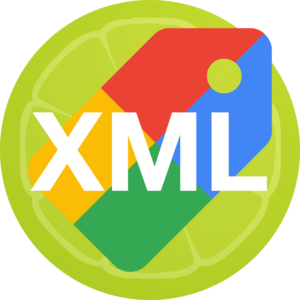 Just released, the new WPSSO Google Merchant Feed add-on retrieves product information from WPSSO Core Premium and provides maintenance free XML feeds for each WordPress language (aka locale).
There are no add-on settings to configure — the WPSSO Google Merchant Feed add-on automatically retrieves all product information in the language (aka locale) requested.
A supported e-commerce plugin, like WooCommerce or Easy Digital Downloads, is suggested but not required — the WPSSO Google Merchant Feed add-on can also retrieve custom product information entered in the WordPress editor Document SSO metabox. WooCommerce variations and additional WooCommerce product attributes are fully supported.
The WPSSO Google Merchant Feed v1.0.0 add-on supports the following Google Merchant Feed attributes:
ID [id]
Title [title]
Description [description]
Link [link]
Image link [image_link]
Additional image link [additional_image_link]
Availability [availability]
Price [price]
Sale price [sale_price]
Sale price effective date [sale_price_effective_date]
Google product category [google_product_category]
Product type [product_type]
Google search index [canonical_link]
Brand [brand]
GTIN [gtin] (inluding UPC, EAN, and ISBN)
MPN [mpn]
Condition [condition]
Color [color]
Material [material]
Pattern [pattern]
Gender [gender]
Size [size]
Size type [size_type]
Item group ID [item_group_id]
Additional attributes, including shipping information, will be available in upcoming versions. If you have any suggestions or comments, please open a Premium support ticket.
Where do you find the new WPSSO Google Merchant Feed add-on?
If you're using the WPSSO Update Manager v4.10.0 or newer add-on (for WPSSO Core Premium), you can find the new WPSSO Google Merchant Feed add-on under the SSO > Plugin Add-ons page.

Enjoy!