The WooCommerce module in NGFB Pro provides the following functionality:
Facebook / Open Graph and Rich Pin meta tags are added for product, category, and tag pages:

The product page includes meta tags for the product name, description, price, currency, availability, condition, and weight, along with custom, featured, and WooCommerce product gallery images.
The product category and tag archive pages include meta tags for the WooCommerce category / tag description and its image.

Support for the WooCommerce 'product_tag' taxonomy, so product hashtags can be added to the Open Graph, Pinterest, and Twitter Card descriptions.
The cart, checkout, and account pages are assigned static description values ('Shopping Cart', 'Checkout Page', and 'Account Page') to prevent unwanted text in meta tag description fields.
Support for additional / custom WooCommerce product attributes (upper/lowercase is important):

brand
color
condition (Damaged, New, Refurbished, or Used)
material
size
An Example Product
Here's an example WooCommerce product page using the WordPress 2014 theme. The product is available in several variations, with different prices and additional WooCommerce gallery images.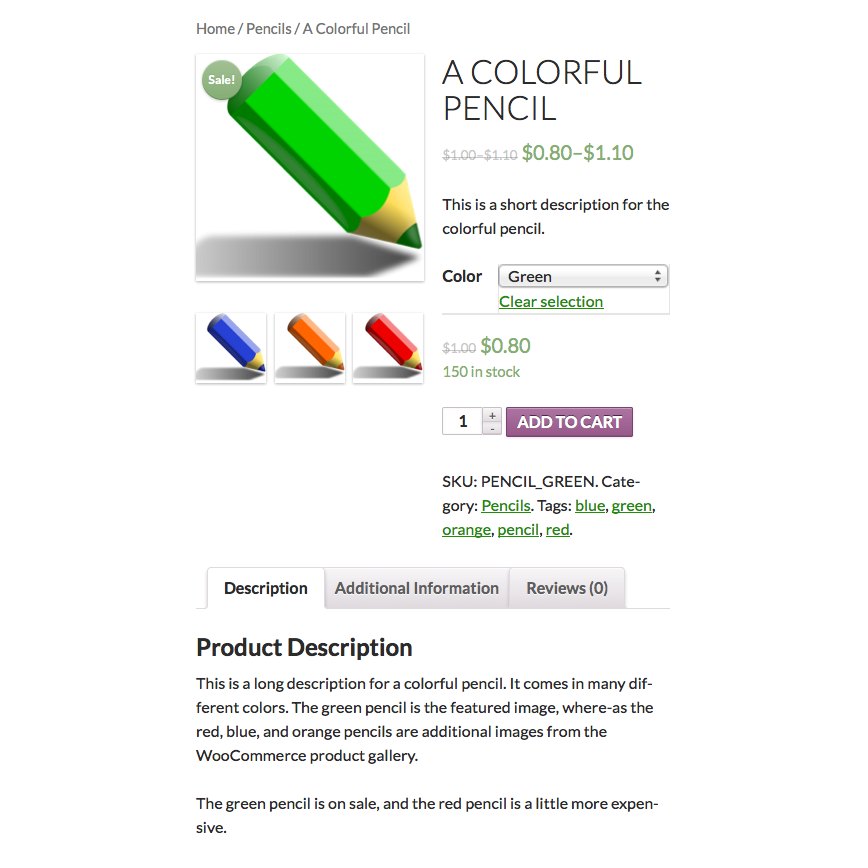 Product Meta Tags
The complete Facebook / Open Graph, Rich Pin, Twitter Card, and SEO meta tags for this example product page.
Example Meta Tags for a WooCommerce Product
1

2

3

4

5

6

7

8

9

10

11

12

13

14

15

16

17

18

19

20

21

22

23

24

25

26

27

28

29

30

<link

rel

=

"author"

href

=

"https://plus.google.com/+JSMorisset"

/>

<meta

property

=

"og:type"

content

=

"product"

/>

<meta

property

=

"product:price:amount"

content

=

"1.00"

/>

<meta

property

=

"product:price:currency"

content

=

"USD"

/>

<meta

property

=

"product:availability"

content

=

"instock"

/>

<meta

property

=

"og:url"

content

=

"http://woo.surniaulula.com/product/a-colorful-pencil/"

/>

<meta

property

=

"og:locale"

content

=

"en_US"

/>

<meta

property

=

"og:site_name"

content

=

"Surnia Ulula (Woo)"

/>

<meta

property

=

"og:title"

content

=

"A Colorful Pencil &ndash; Surnia Ulula (Woo) 123"

/>

<meta

property

=

"og:description"

content

=

"This is a short description for the colorful pencil. #blue #green #orange"

/>

<!-- og:image:1 -->

<meta

property

=

"og:image"

content

=

"http://woo.surniaulula.com/wp-content/uploads/2014/04/Bina_pencil_green-600x600.png"

/>

<!-- og:image:1 -->

<meta

property

=

"og:image:width"

content

=

"600"

/>

<!-- og:image:1 -->

<meta

property

=

"og:image:height"

content

=

"600"

/>

<meta

name

=

"twitter:domain"

content

=

"woo.surniaulula.com"

/>

<meta

name

=

"twitter:title"

content

=

"A Colorful Pencil &ndash; Surnia Ulula (Woo) 123"

/>

<meta

name

=

"twitter:description"

content

=

"This is a short description for the colorful pencil. #blue #green #orange"

/>

<meta

name

=

"twitter:creator"

content

=

"@jsmoriss"

/>

<meta

name

=

"twitter:card"

content

=

"summary_large_image"

/>

<meta

name

=

"twitter:image"

content

=

"http://woo.surniaulula.com/wp-content/uploads/2014/04/Bina_pencil_green-600x600.png"

/>

<meta

itemprop

=

"url"

content

=

"http://woo.surniaulula.com/product/a-colorful-pencil/"

/>

<meta

itemprop

=

"name"

content

=

"A Colorful Pencil &ndash; Surnia Ulula (Woo) 123"

/>

<meta

itemprop

=

"description"

content

=

"This is a short description for the colorful pencil. #blue #green #orange"

/>

<meta

name

=

"author"

content

=

"JS Morisset"

/>

<noscript

itemprop

=

"image"

itemscope

itemtype

=

"http://schema.org/ImageObject"

>

<meta

itemprop

=

"url"

content

=

"http://woo.surniaulula.com/wp-content/uploads/2014/04/Bina_pencil_green-800x800.png"

/>

<meta

itemprop

=

"width"

content

=

"800"

/>

<meta

itemprop

=

"height"

content

=

"800"

/>