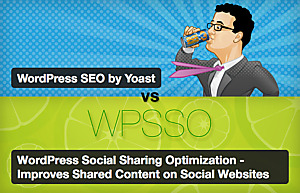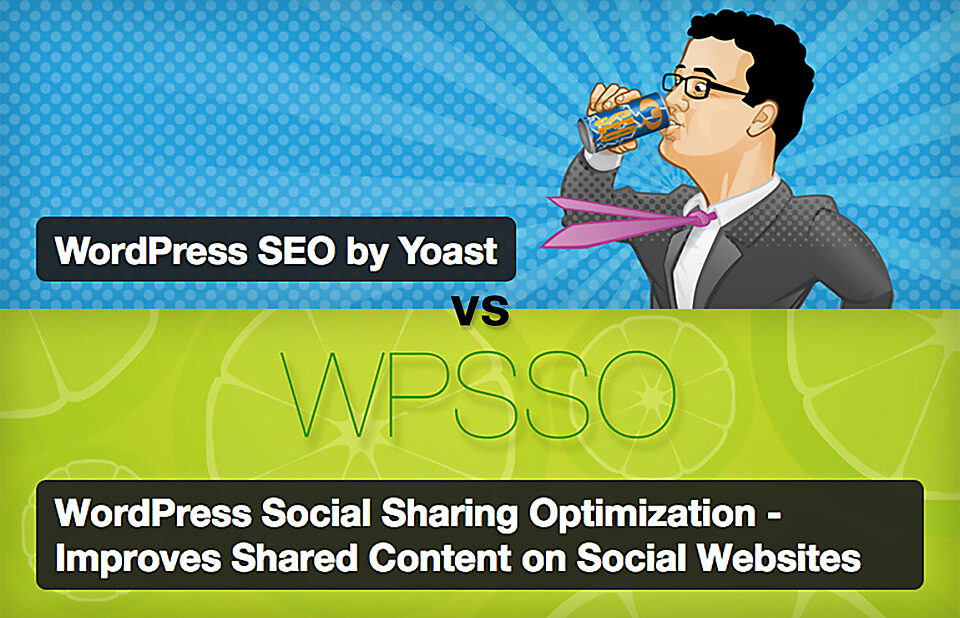 Please Note:

This article was written back in October of 2014.

Schema markup in JSON-LD format, which is not discussed here, has become essential for good SEO. The current version of Yoast SEO offers some basic Schema JSON-LD markup, while the WPSSO Schema JSON-LD Markup add-on for WPSSO Core provides extensive and complete Schema markup for Articles, Events, Images, Local Business, Products, Recipes, Reviews Videos, and more.

The social sharing aspects discussed in this article (meta tags, images, videos, etc.) from Yoast SEO and WPSSO Core are still mostly relevant, although Twitter has since dropped the Gallery, Photo, and Product cards.
A few years ago, most website visitors came from Google Search results. Plugins designed to optimize your content for Google Search became increasingly popular, and part of many "must have" plugin lists. Recently though, that trend has been shifting, as the percentage of visitors coming from social websites is increasing — often matching and sometimes out-pacing — the number of visitors from Google Search. Traditional Search Engine Optimization (SEO) plugins, like WordPress SEO by Yoast for example, have adapted to this change by stepping away from their core purpose, and re-using their SEO content to generate additional meta tags for social websites. But how good is an SEO plugin at addressing the needs of social websites? We compare WordPress SEO to WPSSO, a dedicated social sharing optimization plugin to find out.
WordPress SEO is undoubtedly the most popular SEO plugin available today, and since it offers some basic social meta tags, is often chosen as the defacto social sharing / media optimization (SSO / SMO) plugin as well. This article looks at the features WordPress SEO offers for social sharing, and compares them with those of WPSSO, the leading social sharing optimization plugin currently available (currently 16th most popular plugin on wordpress.org). By the end of this article, you should have a good idea of what WordPress SEO can provide, and where it might come up short when compared with a dedicated social plugin like WPSSO.
What happens when someone shares a URL on a social website like Facebook, Twitter, etc.?

To understand how social websites describe a webpage, and how you can influence its display, you have to know a little bit of what happens in the background. When someone shares a URL on a social website (either by using a "share" button or copy-pasting a URL), the social website then connects back to the shared URL to gather information about its content, such as its title, description, main image, etc. If no structured information is available within the webpage (aka schema markup and/or meta tags), the social websites must "take a guess" — and this is where things can get a little weird. Without proper guidance, social websites may use a sidebar advertisement as the main image, menu or banner text as a description, etc.
Social Sharing Optimization (SSO) plugins like WPSSO, and some Search Engine Optimization (SEO) plugins like WordPress SEO, can provide structured information about the webpage for social websites — providing them with a specific title, short description / summary, one or more images, embedded videos, product information (price, color, size), etc. In the case of Twitter, you can even describe the content as a photo gallery, and provide several images for it to expand the tweet as a Gallery Card (just one of seven available Twitter Card types).
Facebook, Twitter, and Pinterest have been pro-active in defining "standard" structures that can be used to describe the content of a webpage. In the case of Facebook, this standard is called Open Graph, and — having been one of the first to document a standard — Open Graph is supported by most other social websites as well (LinkedIn, Google+, Pinterest, and others). A few years ago, Twitter announced its own standard, named Twitter Cards, that defined several categories for webpage content — each one with its own display style on Twitter (Photo, Gallery, Product, App, etc.). Pinterest named its own standard Rich Pin, and uses a mix of Open Graph meta tags and schema markup — with a few Pinterest-specific twists (some of which are incompatible with Facebook's Open Graph standard).
There are several key components to look for when sharing content on a social website.
Is the title correct, or would another title be more engaging?
Is the description / summary good, and is it long or short enough?
Is the image accurate, and is it large enough?
If this Post or Page contains an embedded video, is the video displayed in the share?
If this is a Product, does the share include its price, color, size, etc.?
Is the website and/or author attribution correct?
These, and many other components, must be considered when choosing a Social Sharing Optimization (SSO) plugin. Let's examine each component individually, starting with the most important:
Images
A share without an image is unlikely to get many clicks, and shares with larger, more engaging images, generate significantly more clicks. Some social websites always display the same size image when a URL / link is shared, but Facebook (as one example) can display much larger images, if/when larger images are available. All social websites also have a minimum image size they can use, and any image provided that's smaller than this minimum is ignored. The same is true for maximum sizes as well (both in pixel dimension, and file size) and images that are too wide or tall. For example, Facebook ignores any image that is less than 200x200px, has an aspect ratio over 3:1, and prefers images that are 1200px wide, but less than 1500x1500x and 5MB in file size. Images less than 600x315px are shown as thumbnails, with text on their sides, and larger images are displayed more prominently, with the title and summary underneath the images. The resolution of the device used when viewing a shared link is also important — to get a visual size equivalent to 600px on some devices (with retina displays, for example), an image of 1200px must be used — which is why Facebook prefers images of 1200px in width.
Twitter requires several different image sizes, depending on the Twitter Card used. For example, the Large Image Summary Twitter Card (supported by most SEO and SSO plugins) must be larger than 280x150px and less than 1MB. Other Twitter Card formats, like Photo, Gallery, Product, etc., also have their own minimum and maximum image dimensions / sizes.
WordPress SEO vs WPSSO

Both plugins can use the featured image defined for a Post / Page, but WordPress SEO uses the original / full-size image URL, where-as WPSSO scales the image depending on its intended use. Using the default setting values, WPSSO provides images that are 800x800px cropped for Facebook / Open Graph, 800x800px un-cropped for Pinterest, 300x300px un-cropped for Large Image Twitter Cards, 800×800 un-cropped for Photo Twitter Cards, and so on. The defaults can be changed, and the plugin suggests an image dimension of 1200x1200px cropped for Facebook (to support retina displays).

WordPress SEO runs the risk of providing an image that is too small, too large, or outside of acceptable aspect ratios, where-as WPSSO will issue a warning, and ignore images that are too small or too tall / wide (with an aspect ratio over 3:1) for the size it's configured to provide.

WPSSO goes beyond WordPress SEO by searching for potential images within the Post / Page content as well, including from shortcodes (singlepics and galleries, as an example), and — when using WPSSO Pro — from other plugins like NextGEN Gallery, WooCommerce, WP e-Commerce, MarketPress, BuddyPress, and others.
Both plugins provide default (fallback) image settings for the home page, or when a Post / Page does not contain an image — you must use image URLs in the WordPress SEO settings, where-as WPSSO supports both image URLs and image IDs from the Media Library (and NextGEN Gallery) in order to provide accurately sized images, depending on their intended use.
Gallery Share on Facebook

Sharing the WP Test "Tiled Gallery" post on Facebook, with WordPress SEO (left) and WPSSO (right), produces two very different results — largely because WordPress SEO does not handle shortcodes.
Videos
Your content may include one or more embedded videos, which may be used by some social websites — like Facebook and Twitter — when sharing the webpage URL.
WordPress SEO vs WPSSO

The Free versions of both WordPress SEO and WPSSO do not support Facebook / Open Graph and/or Twitter Card meta tags for videos. WordPress SEO has an addon plugin named Video SEO for WordPress, that includes Facebook / Open Graph meta tags for videos, but it does not support the Twitter Player Card. The Pro version of WPSSO on the other hand, supports both the Facebook / Open Graph and Twitter Player Card for YouTube, Vimeo, Wistia, and Slideshare videos, including video preview images.
Video Share on Facebook and Twitter

Using WPSSO Pro, sharing a post that contains an embedded video results in the video being shown on Facebook and Twitter (aka Twitter's Player Card).
Titles
Titles are fairly simple and straight-forward, aside from the fact that WordPress passes titles through a 'wp_title' filter, which themes and SEO plugins (like WordPress SEO) often use to modify the default Post or Page title.
WordPress SEO vs WPSSO

WordPress SEO allows you to customize the title included in the head section of a webpage — this is the title displayed in web browser tabs and Google Search results — along with the title used for Facebook and Google+. The Pro version of WPSSO is required to modify default social sharing title and description values for Posts and Pages. The Pro version also includes an option to use the original / pre-filtered title instead of the "SEO" title, which is a handy feature if you want to avoid your blog name being added to every shared title (a common SEO practice).
Descriptions
Although not as complicated as images, each social website has different maximum lengths for descriptions (300 characters for Facebook, 200 characters for Twitter Cards, and 156 characters for Google Search), and some social websites support hashtags, while others don't. The content text of a Post or Page may also be created in part by shortcodes, which need to be expanded to get an accurate default description value.
WordPress SEO vs WPSSO

WordPress SEO and WPSSO will use the excerpt, if one is defined, as a default description value. If one is not available, both plugins will fallback to using the content text, but only WPSSO will expand shortcodes first (aka apply 'the_content' WordPress filter) to give a better / more complete description. The Free version of WordPress SEO allows you to customize the description used for Google Search, Facebook, and Google+, where-as the Pro version of WPSSO is necessary to customize these values (among several others).
Products
There are many WordPress sites selling commercial products using a variety of e-Commerce plugins, such as WooCommerce, Easy Digital Downloads, MarketPress, WP e-Commerce, eStore, and many others. Pinterest and Twitter can both display additional information when a product webpage is shared, including its price, currency, availability, variations (color, size, dimensions, weight, etc.), and image. e-Commerce plugins maintain product information in additional database tables and/or custom fields. SEO and SSO plugins must have features specifically written to support each e-Commerce plugin, allowing them to fetch information on products, and structure it for social websites.
WordPress SEO vs WPSSO

The Yoast WooCommerce SEO plugin is required in order for WordPress SEO to create the necessary meta tags for Pinterest and Twitter. The Pro version of WPSSO is necessary WooCommerce support, which includes additional integration for WooCommerce Product Gallery images, categories, and tags. WPSSO Pro also includes support for Easy Digital Download, MarketPress, and WP e-Commerce.
Product Share on Pinterest and Twitter
Twitter Cards
There are seven different Twitter Card types:
Using additional plugins, like Yoast WooCommerce SEO, WordPress SEO offers three of the seven Twitter Card types — Summary, Large Image Summary, and Product. The Pro version of WPSSO offers six of the seven Twitter Cards, and using WPSSO App Meta — an extension plugin for WPSSO — all seven Twitter Cards are supported.
Integration
WordPress SEO does not integrate with other plugins. Yoast WooCommerce SEO is required to support WooCommerce products, and Video SEO for WordPress is required to provide video information for Facebook (though it does not support the Twitter Player Card). The Pro version of WPSSO provides substantial integration features, including support for:
Plugins

All in One SEO Pack
bbPress
BuddyPress
Easy Digital Downloads
HeadSpace2 SEO
JetPack Photon
NextGEN Gallery
MarketPress – WordPress eCommerce
Polylang
WooCommerce
WordPress SEO by Yoast
WP e-Commerce

Service APIs

Gravatar Images
Slideshare Presentations
Vimeo Videos
Wistia Videos
YouTube Videos and Playlists
WPSSO Pro integrates with WordPress SEO as well — after all, it's an excellent SEO plugin, and if the basic social features of WordPress SEO are disabled (using three check-boxes in the SEO settings), WPSSO can step-in and provide more complete social meta tags and features. The WPSSO integration with WordPress SEO means that WPSSO will use the custom WordPress SEO title, description, and the canonical URL in its social meta tags.
Conclusion
If you're primarily concerned with sharing posts on Facebook, Pinterest, LinkedIn, and other social websites supporting the Open Graph standard, WPSSO Free is an excellent choice. The Pro version is required to support custom titles and descriptions, but WPSSO's expansion of shortcodes means the default / suggested description is often sufficient. If your webpages are shared on Twitter, you may consider using the Pro version of WPSSO instead — you get six of the seven Twitter Cards, and with the WPSSO App Meta extension plugin, you get access to all seven Twitter Card types.
Links
WordPress SEO
WPSSO
Test and Validation Tools
Several social websites offer test and validation tools to verify you meta tags and schema markup. Use the following tools to check how some of your website pages will be displayed, and make sure there are no errors in your page structure: