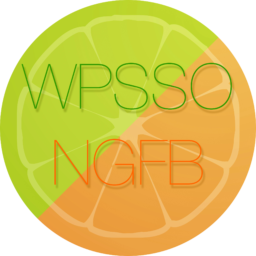 NextGEN Facebook (NGFB) version 8.0 and WordPress Social Sharing Optimization (WPSSO) version 3.0 have been released — These are major version releases and include many new features and improvements. If you use the Free version, you'll notice several (36) new options on the General settings page. These options were previously only available to Pro users, but my hope is to provide more functionality to Free version users, while still maintaining an attractive feature set for Pro version users (3rd-party plugin integration, Twitter Cards, custom Social Settings, and Advanced plugin settings).
What's the difference between NGFB and WPSSO?

WPSSO is a fork (aka child) of NextGEN Facebook (NGFB). They have the same author, many of the same excellent features, but WPSSO is distributed without the sharing buttons and their related features. As a result, WPSSO is 25% smaller and is often preferred for websites that already have (or don't need) a set of sharing buttons.
The previous versions of NGFB and WPSSO offered a Basic Options View on settings pages by default — with a button as the only way to switch to an alternate All Options View. The current versions now include an additional link under the settings metaboxes to "unhide / show all" the options when using the Basic Options View. This should make the Basic Options View more usable for advanced users that also prefer a cleaner / simpler settings page.